Multifunctional Infrared Camera Detector
Staying over at a place that isn't your home calls for multiple security concerns. This Camera Detector can accurately trace any IR devices for your safest travel experiences.
The Multifunctional Infrared Camera Detector is a very helpful device for those who want privacy. If you are in a hotel room, dressing room, office, etc. where you feel your privacy can be compromised this device is the best solution for your problem.
This Multifunctional Infrared Camera Detector detects hidden cameras because they emit infrared radiations.
FEATURE(S):
PORTABLE SIZE - The infrared camera detector is lightweight, handheld, and compact, easy and convenient for traveling, carrying, and storage in handbags, purses, pockets, and suitcases.
The safe sound personal alarm can find pinhole cameras, protect your privacy and keep personal security anytime and anywhere.
DETECTOR - The cameras such as lighter camera, pinhole camera, watch camera, or pen camera can be easily and quickly detected by the infrared of the safe personal alarm, effectively protecting individual privacy when you are in a hotel or any other places.
EASY OPERATION - It takes 1-2 hours for the personal alarm to be fully charged and can be constantly used for 8-10 hours. The detector features easy operation and long service life.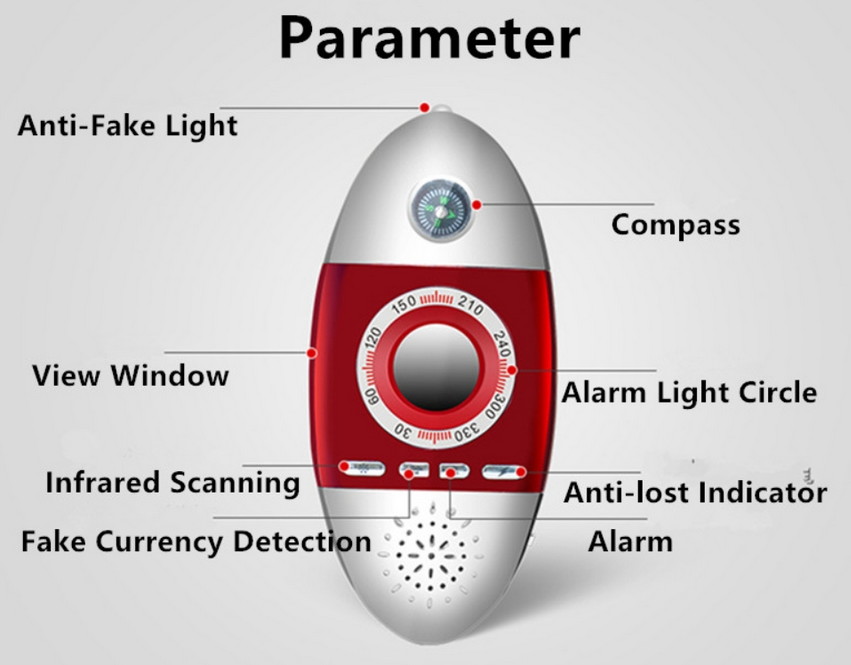 SPECIFICATION(S):
Material: Plastic
Color: Black & Red
PACKAGE INCLUDE(S):
1 x Data Line
1 x Lanyard