Unisex Lightweight Fly Bass Fishing Vest Backpack
The Unisex Lightweight Fly Bass Fishing Vest Backpack is a life vest good for your next fishing trip with multifunctional pockets to use load is distributed all around your body.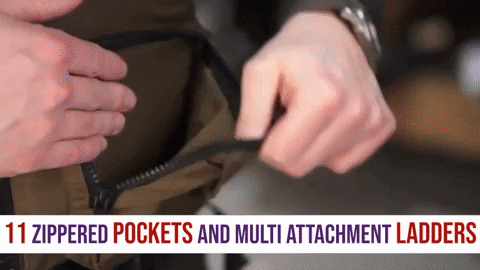 ✔️ Lifesaving
✔️ Replaceable foam
✔️ Flexible
✔️ Adjustable size
✔️ Superior buoyancy
✔️ Accessory loops and attachment
✔️ Versatile
Looking for a life vest for your next fishing trip? The Unisex Lightweight Fly Bass Fishing Vest Backpack is perfect for you!
A multifunctional fishing life jacket looks more like an outdoor vest with multiple pockets to use and multi attachments. A great vest for fly fishing, kayak fishing, canoe fishing, or any type of fishing.
A functional gear in both the front and back of the vest, your load is distributed all around your body.
FEATURE(S):

MULTIPLE POCKETS - It has four chest pockets, four zipped front pockets, two side mesh pockets, and one back pocket. The functional pockets can accommodate multiple items so you could have easy access to the thing you need.
ONE SIZE FITS MOST - It has an adjustable shoulder and waistband design. The suspension structure with multi webbed adjustable buckle straps offers a custom fit for almost any person. You don't have to be confused about the size because it is adjustable and specially design to fit most body sizes and structures.
COMFORTABLE - It is lightweight so you can move comfortably and can stand in any weather. It gives you more room to paddle and eventually aim you on the water without hassle.
BREATHABLE - It provides you with a high breathability experience. Has good ventilation in hot or cold weather, and give your arms more freedom of movement and keep your core warm for cold weather.
HIGH-QUALITY MATERIAL - Made from high-quality polyester, light, thin, durable, and dry quickly after washing. Suitable for all seasons of fishing especially spring and summer. Provides a sturdy and durable construction that would last long.
SPECIFICATION(S):

Materials: Polyester & EPE Foam
Maximum Bearing: 95kg / 209.44lb
Item Flat Size: 55x46cm / 21.65x18.1"
PACKAGE INCLUDE(S):